Magazine Racks : Special Rack Series
Special Rack Series: Combination Rack
Ideal for transportation from mounter to inspection or assembly. Also saves space in storage.


Supports compact PCBs.
Compatible with existing M-size unloaders and enables PCB storage.
Saves space for factory storage.
Lightweight for transportation.
Use two 20-PCBs storage racks.
Specifications(mm)
Model No.
Outer Dimensions
PCB Slots
Ref. Position
L
W
H
NKC-0525
355
320
563
–
–
NKC-0715R
355
187.6
245
20
34×34
Special Rack Series: Tray Rack
Ideal for storing trays for electronic parts.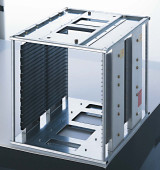 Can also store trays for tray feeders from various SMT manufacturers.
Cardguide material is resistant to shaving.
Stackable
Specifications(mm)
Model No.
Outer Dimensions
Pitch P
PCB Slots
Work size
L
W)
H
NKFX-0260RC-L6×2
382
310
315
12
20
260×360
Special Rack Series: Heat-Resistant Rack
All-metal magazine. Cardguides are aluminum or pressed stainless steel. Same specifications as the 0525 Series. Safe for oven and burn-in process.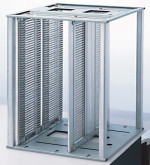 PCBs can be placed in the magazine directly from the reflow oven without cooling down.
Same size and reference position as the 0525 Series. Can be used with loaders and unloaders.
Space designed between cardguide slots to provide ventilation, thereby allowing consistent heat distribution. Ideal for high temperature ovens.
Width adjustment of screw-bolt width adjustment type.
0531, 0539, and 0546 sizes also available.
Specifications (Unit: mm)
Model No.
Adjustable Width
Outer Dimensions
PCB Slots
L
W
H
NKLH-0525AL
50~250
355
320
562
50
NKLH-0525SU
50~250
355
320
562
50